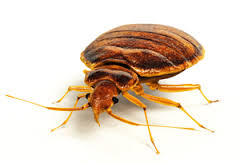 If a Detection K-9 alerts on the scent of bed bugs and no bed bugs are found, it is not necessarily a 'false positive.' There is no perfect detection technology available however; research has shown that properly trained detection dogs and handlers are 90% to 95% accurate as opposed to human, visual inspection which is only 35% to 40% accurate at best.
We all want to SEE the bugs once a dog has alerted, however in cases of early infestation or where bugs harbor-age in cracks and crevices, they may not be seen until the infestation grows. It is a mistake to assume that because no bed bug is found that there are no bed bugs present and the canine alert was false.
A NEW LEVEL OF DETECTION
Detection K-9s take bed bug detection to a whole new level. We can locate the presence of bed bugs long before traditional signs such as blood trails, spotting, cast skins, bed bugs rash or bedbug bites are seen.This enables Bed Bugs pest control services to treat and get rid of bed bugs before the problem develops into a major infestation, saving you time, money and disruption.